[[File:Vester.png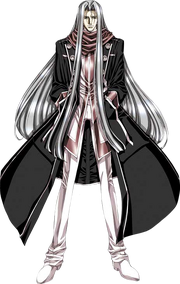 Vester is the main antagonist in Growlancer IV: Wayfarer of Time.
Appearance
Edit
Vester appears to be a man in his thirties; he has long-silver hair and yellow eyes. His outfit consists of a reddish, violet, and white vest and pants, and a black overcoat.
Personality
Edit
Vester is cruel and very manipulative, to the point where he kills people in order to revive them as his servants by implanting parasites into their corpses that feed on their deepest fears and regrets. He isn't on any particular side in the war, as he teaches summoning spells to summoners of all countries in order to cause monsters to appear everywhere. His main goal is to cause all the countries to rely on summoning spells and spell cannons which results in the spread of monsters from the Netherworld.
Vester is actually a creature from the Netherworld, referred to as the 'darkness' in the future. In the future, he grew to powerful that his darkness could not be contained; so Professor Steinman sent Akyel and Uriel to the past in order to kill summoners in order to prevent more gates from the Netherworld from appearing.