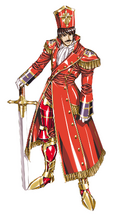 Bernhart Muntzer (ミュンツァー, Bernhart Muntzer?) is a character from Growlanser IV: Wayfarer of Time.
Background
Edit
Valcaneer Royal Guard member. Because he is quiet, he appears to give an unsociable impression but in fact he is calm and subtle. Because he always pays attention to the people in the surroundings, he keeps his subordinates' morale high.
He has an adopted refugee daughter who works at an inn.